Description
AORUS POWER SUPPLY P750W 80 GOLD
POWER OVERWHELMING
AORUS POWER SUPPLY
FULLY MODULAR DESIGN
All the black flat cables are modular design. Installing only the cables you need to reduce clutter, to increase the airflow and to improve the chassis thermal performance.
▲ Plus the capacitor to get higher power quality.
HIGH QUALITY 100% JAPANESE CAPACITORS
All capacitors are high quality Japanese capacitors, to produce the efficient performance and to ensure the longer reliability.
The life of the main capacitor is over 20 years(Environment 25°C)
135MM SMART FAN
Fan speed will be adjusted according to the system load. And the fan will stop when the system is idle or under low load (less than 20% load). The 2 ball bearing structure provides longer life time.
80 PLUS GOLD CERTIFIED
80 Plus Gold certified ensures to deliver 90% efficiency at 50% load. The better power efficiency leads to less power waste, less heat and less fan noise. And with the support of Intel processors, it will save more energy and more money.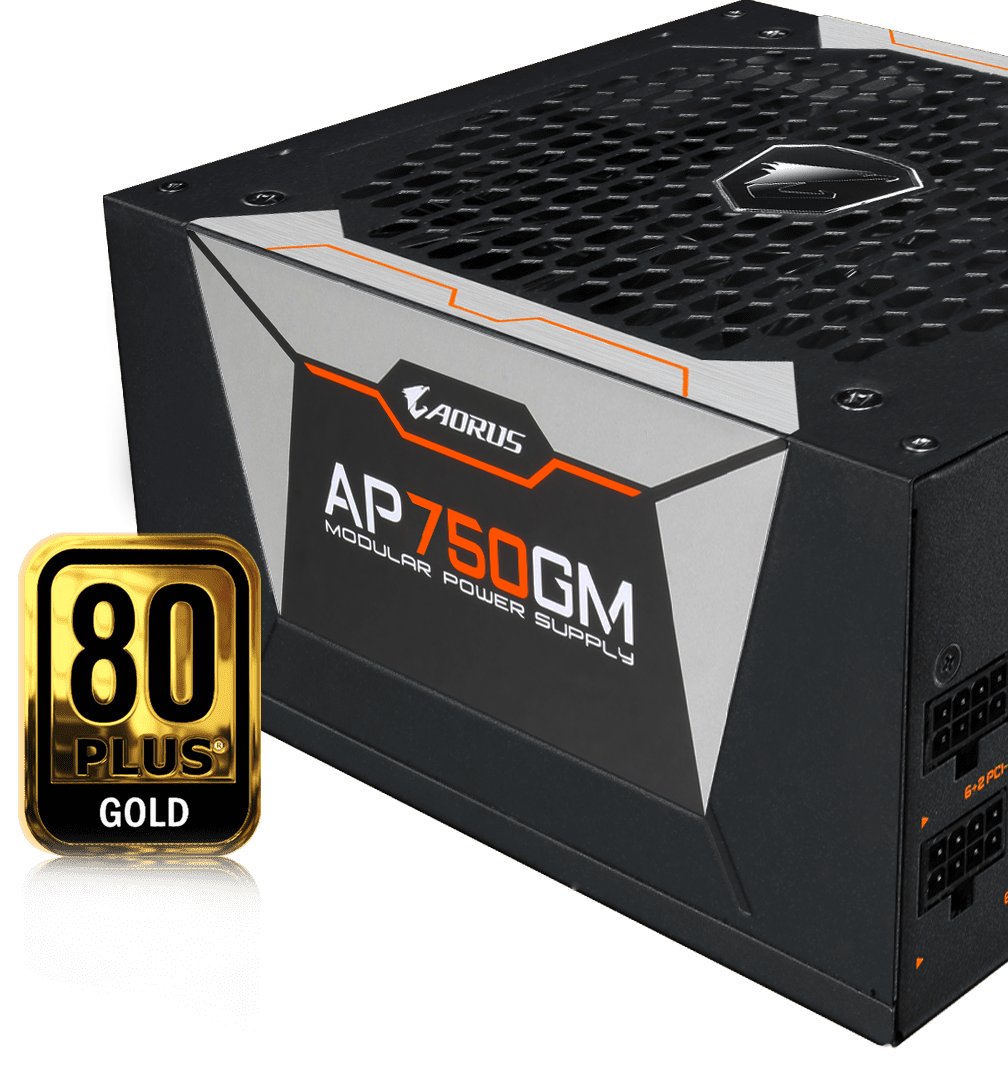 SINGLE +12V RAIL
Single +12V rail provides the best power output, stability and compatibility for the hardware. It provides the easiest way to install the power cable. And it is the best design for overclocking.
PROTECTION
In order to make sure the entire computer system to operate stably under any conditions, we not only added protection designs such as OCP, OTP, OVP, OPP, UVP and SCP, but also ensured the stable operation of your system through the safety certification of various countries.
SPECIFICATIONS:
Intel Form Factor ATX 12V v2.31

Active PFC (>0.9 typical)

135mm Double ball bearing fan

> 16m sec at full load (115V)

ATX/MB 20+4 Pin x 1 : 650mm
CPU/EPS 4+4 Pin x 2 : 800mm*1 , 650mm*1
PCI-e 6+2 Pin x 4 : 750mm*2 , 650mm+150mm*1
SATA x6 + 4 Pin Peripheral x2 :
550mm+100mm+100mm+100mm*1
450mm+100mm+100mm+100mm *1
4 Pin Peripheral x 3 + 4 pin Floppy x 1 : 450mm+100mm+100mm+100mm*1
4 Pin Floppy x 1 : 100mm
FOR MORE INFORMATION: