Description
laptop Dell G15 5510 Intel i5 10200H GTX 1650, Ray tracing and very high graphics expectations dazzle the eyes of the players, especially in the gaming sector, with NVIDIA's recent launch of RTX graphics cards to the market, but the prices of laptops with these graphics cards are well known; not affordable to everyone.
When it comes to gaming, though, NVIDIA's GTX 1650 is a good alternative. While the GTX 1650 graphics card is essentially a cost/performance option, the games don't let you down, and it performs admirably.
laptop Dell G15 5510 Intel i5  has also used this graphics card in the Gaming G15 5510, resulting in a more cost-effective choice with balanced, consistent performance.
CHECK OUR PRUDECT: Dell Vostro 3500 Laptop, Intel Core i5-1135G7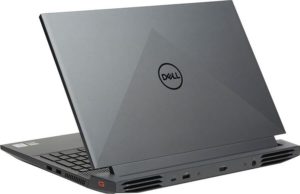 laptop Dell G15 5510 Intel i5 10200H
Under the screen, we are greeted by a big keyboard. The addition of a numeric keypad on the keyboard makes it easier to use, and the orange hue of the keyboard adds to the laptop's overall aesthetic. By the way, the laptop's general design is rather good.
Dell's Alienware laptop line inspires the G15 5510, and its thermal design follows in their footsteps.
The two air intakes slightly above the keyboard and below the G15 enhance airflow over the copper pipes inside the laptop's internal surface, allowing it to be vented out through the four vents on the sides and rear.
laptop Dell G15 5510 Intel i5 SOFTWARE
Keyboard: Internal Arabic Qwerty Backli t Keyboard with Numeric Keypad